How to Work from Home Comfortably and Without Credit!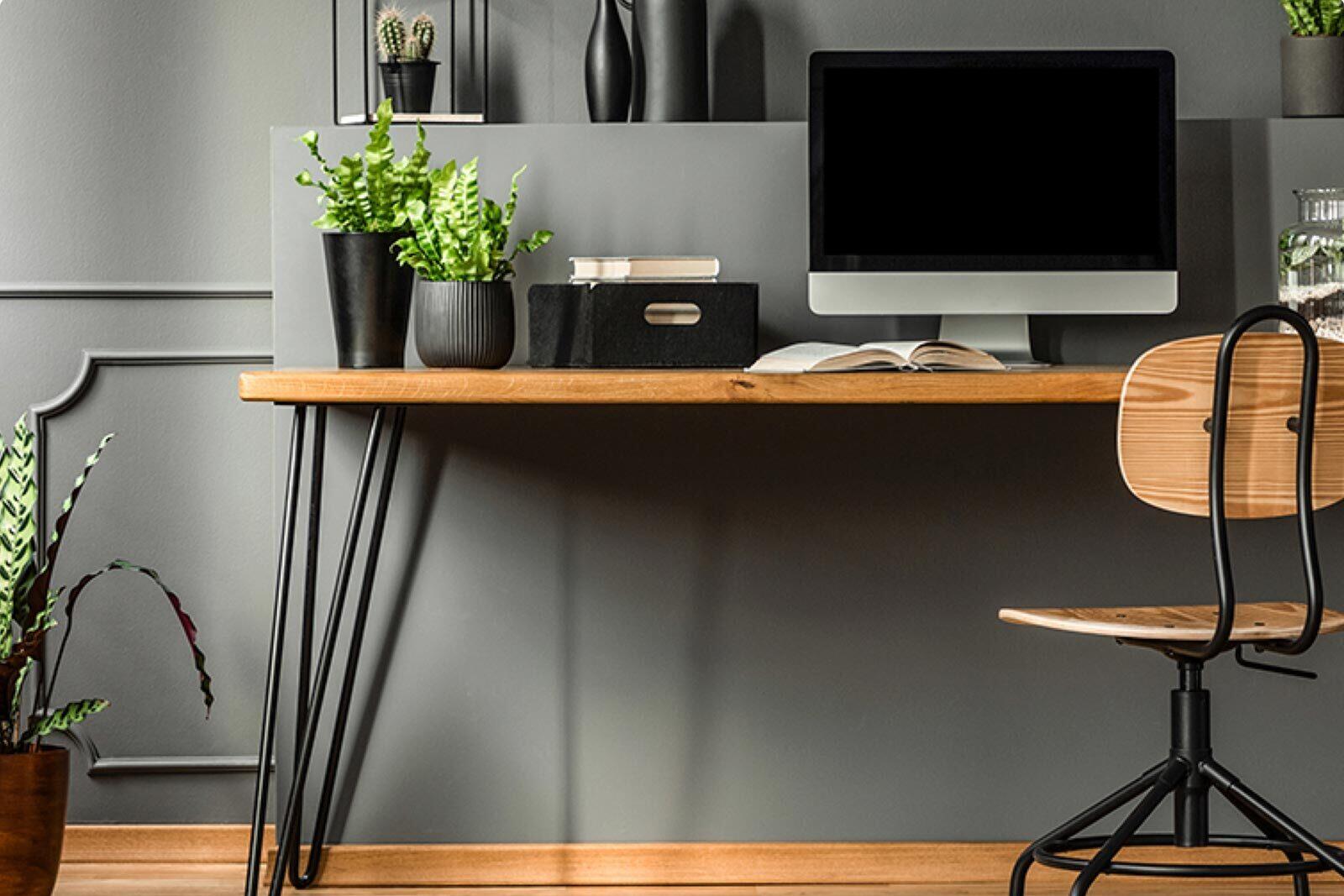 You may be one of the millions whose company quickly shifted to an unplanned "work from home" set-up early on in the COVID-19 pandemic and is now making it a long-term (or permanent) situation. If so, you may also have discovered by now that your makeshift home office space (dining table, anyone?) is not an ideal long-term solution and that creating a more permanent, professional workspace is necessary. On the flip side, you also maybe finding out how surprisingly expensive furniture can be. And it's probably not something you budgeted for, especially in a year where the money is particularly tight.
But you don't have to let big price tags scare you away from buying the home office essentials you deserve. Our Preferred Lease "no credit needed*" alternative to financing can help.
Put Preferred Lease "No Credit Needed*" Solutions to Work for You
Everyone deserves the ability to furnish their home office space in the way that works best for them. To create a workspace that resembles the functionality of what you used to have in your office, you'll want to consider the following items:
Office desk large enough for your computer, filing system, etc.

A good office chair preferably ergonomic

Other office furniture: hutch, bookcase/shelving, filing cabinets or storage

Desktop or laptop computer and accessories (e.g., printer/copier/additional monitor)
But even with just a few of the essential "big ticket" items, you'll see that it all adds up fast.
The good news: With Preferred Lease lease-to-own program** as a "no credit needed*" furniture financing alternative, you can afford to get the home office essentials you need as soon as today. The even better news: Preferred Lease partners with more than 4,500 local and national retailers across the country to give millions of more customers like you the ability to shop for the products you want at your favorite stores.
So, What Is "Lease-to-Own**"?
If you've never heard of the term "lease-purchase agreement" or "lease-to-own" or are a little skeptical, you're not alone. But, don't let it scare you off. It's actually something that more and more national and local retailers are offering to their customers as an easier way to get the name-brand furniture they want (or suddenly need, like those work-from-home essentials) with no credit needed.
With Preferred Lease, you can get started with a low initial payment, then make low monthly or bi-weekly payments as you go. You also have options to stop payments and return the product should you no longer need it, or to purchase it and outright own the product once you complete your scheduled payments or exercise an early purchase option.
And lease-to-own is used by millions of customers around the country. These are folks just like you, needing to make large purchases right away but lack the cash or credit to qualify for a store's financing program. They also don't want to be stuck in a situation they can't get out of (like paying off interest) should their family budget change.
Best of all, because Preferred Lease is a "no credit needed*" option, no FICO score is required. After a quick and easy application process, you'll be approved instantly to begin a lease-purchase agreement for up to $4,000 to shop.
Here's all you need to get started:
Personal information: Name, date of birth and contact info (customer should be at least 18 years old)

A verifiable source of income (e.g., pay stub)

Proof of residence and contact information for your landlord/mortgage company

At least two personal references
Once you complete your application and receive your approval, that's where the fun begins: shopping! You're now ready to get the furniture and accessories you need to get your new, permanent home office set up and running.
To learn more about how easy it is to get started and how Preferred Lease works, click here.
Get Started Today!
For a low initial payment, you can rent to own the furniture and other items you want as soon as today with no credit needed*, and then pay as you go. Just click here to find Preferred Lease in the stores near you where you like to shop for your home office needs!
*"No credit needed" does not mean or imply that no inquiry will be made of credit history or creditworthiness. We may receive data from consumer reporting agencies and/or data furnishers, but no established FICO score or credit history is required.
**The advertised transaction is a rental-purchase agreement (rent-to-own agreement, consumer rental-purchase agreement or a lease/lease-purchase agreement depending on your state) provided by Preferred Lease. It is not a loan, credit or financing. You will not own the merchandise until the total amount necessary to acquire ownership is paid in full or you exercise your early purchase option. Ownership is optional. Approval subject to review and verification of your application. Not all applicants are approved. See your lease for payment amounts and rental terms.