Desk Ideas That Are Perfect for Small Spaces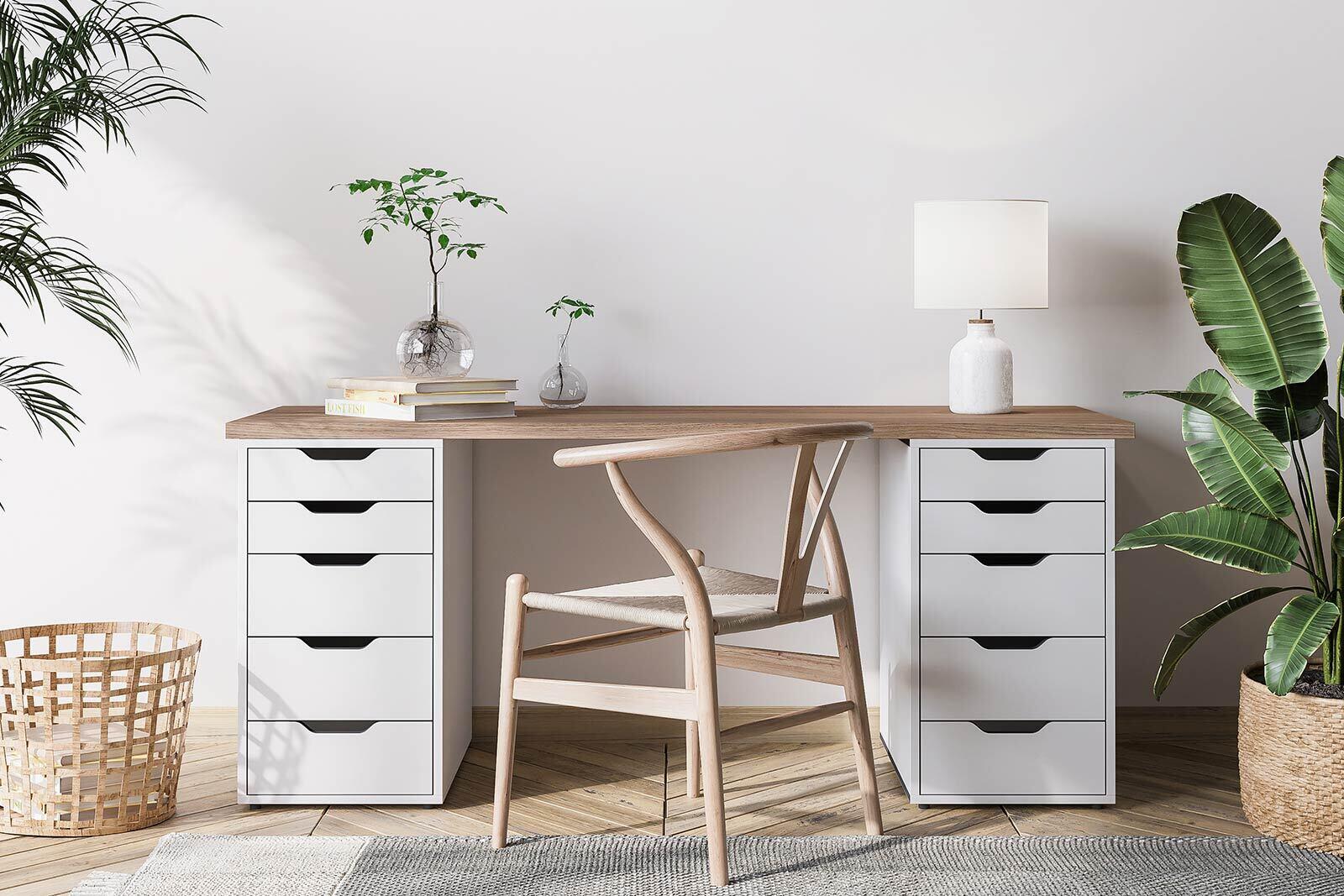 Now more than ever, and for a variety of reasons, working from home has become more the norm in recent years. From saving on gas and time on the road to being more productive with your workload, the benefits are plenty. But if you've been doing this for a while and still haven't created a permanent space or dedicated office for working, studying, paying bills, answering emails … the list goes on … maybe now's the time. And boy, do we have ideas.
So maybe you think you don't have enough room to make this happen. Maybe you live in a small apartment or can only carve out a tiny corner away from the family. Fortunately, you can create a game-changing desk/office area even when you only have a little space to work with. All you need is a little creativity and ingenuity. (Some DIY skills wouldn't hurt, either.)
And because you also probably have very little time in your busy schedule, here are some game-changing ideas that are sure to inspire you.
One Clear Solution: The "Invisible" Desk
The desk should be just a desk, not a distraction. Big, bold furniture can make a small space feel cluttered, giving off the effect that the room is even smaller than it really is. "Invisible" furniture made of clear acrylic or Lucite may be the answer. Not only can its unique, modern look help you make a style statement, but because of its see-through nature it will open your space up, making it "disappear" within the room.
Apply a Little DIY
If you don't have the space for a traditional desk, it can feel like trying to fit a square peg in a round hole. Time to get into DIY mode! Get your creative juices flowing by referring to Pinterest boards and video tutorials for inspiration. Here are just a few ideas:
A Wall-Mounted or Hanging Counter. Perfect for corners! Make as much counter space as you can for all the things that need a place (books, papers, computer, decor, etc.). With the open floor space underneath, you can move a chair around more freely or add storage cabinets. Add shorter wood planks to the wall to create matching shelves.
Folding Hide-a-Desk. Remember Murphy beds? (They're making a comeback in tiny homes, too.) This is the same space-savvy concept: The desk folds down when you need it, folds up against the wall when you're done. In even the smallest of spaces where every square foot matters, this a solution that allows you to have a desk when you need it, but create space and make the room feel … well … roomier when you don't.
Explore the Vertical. Use a desk and shelving combo, modular shelving or a ladder desk that allows you to put a desk surface in a tight space, then utilize the floor-to-ceiling area for storage and supplies. This approach allows you to leverage your wall's vertical area to draw the eye upward, elongating the room (giving it depth), and just getting creative with different levels and lengths of shelf space.
Make Your Furniture Do Double Duty
Sometimes, there's no need to invest in two separate pieces when you can maximize the function of an existing piece (as well as your budget). Give a bar shelf, dresser, side table or similar piece a "side hustle" by leveraging it as your own personal workspace. Consider leasing these furniture items, which might be more dynamic than purchasing an actual desk and are easy to find at one of our more than 4,500 Preferred Lease retail partners.
Insta-Desk in a Dash
Sometimes you just need a flat surface to work on ASAP. No time for a DIY project or even to go shopping. Here's a super-quick fix: Lay a wood slab that fits within the space you have atop two stylish cabinets or stacking storage bins. Then wrap the surface in stylish contact paper. Boom … instant custom desk.
Give That Awkward Space a New Purpose
Plenty of homes have one of those areas (a corner, an alcove, etc.) where nothing fits exactly right or you just don't know what to do with it yet. Well, now you do: Transform it into your new cozy desk nook! Make every inch count by filling the space with a built-in desk then, add a bulletin board, dry-erase board or other materials to the facing walls for an added space-saving hack.
Convert a Spare Room (or Closet, or Basement … )
Necessity is the mother of invention, as they say. So maybe it's just a matter of reinventing a space that you already have. If you do have a guest bedroom, maybe now's the time to convert it to the home office of your dreams. Have a spare storage room or closet? Finished basement or attic? Insulated garage? If it has four walls and a door, then you have the beginnings of your new private, separated space.
There's a Solution for Small Budgets, Too
Your space may be on the smaller side, but that doesn't mean you can't make it work for you. With the right surface and spatial tricks, you can turn an unused corner or furniture piece into the perfect office nook.
Get to creating the space you've always wanted, and don't forget to have fun with it! But before you do, check out these related articles for even more ideas:
Or, if you're ready to start shopping (and you can with no credit needed*) for furniture to fill your new office space,find a store now and start an affordable lease-purchase agreement with Preferred Lease today.
*The advertised transaction is a rental-purchase agreement (rent-to-own agreement, consumer rental-purchase agreement or a lease/lease-purchase agreement depending on your state) provided by Preferred Lease. It is not a loan, credit or financing. You will not own the merchandise until the total amount necessary to acquire ownership is paid in full or you exercise your early purchase option. Ownership is optional. Approval subject to review and verification of your application. Not all applicants are approved. See your lease for payment amounts and rental terms.
**"No credit needed" does not mean or imply that no inquiry will be made of credit history or creditworthiness. We may receive data from consumer reporting agencies and/or data furnishers, but no established FICO score or credit history is required.